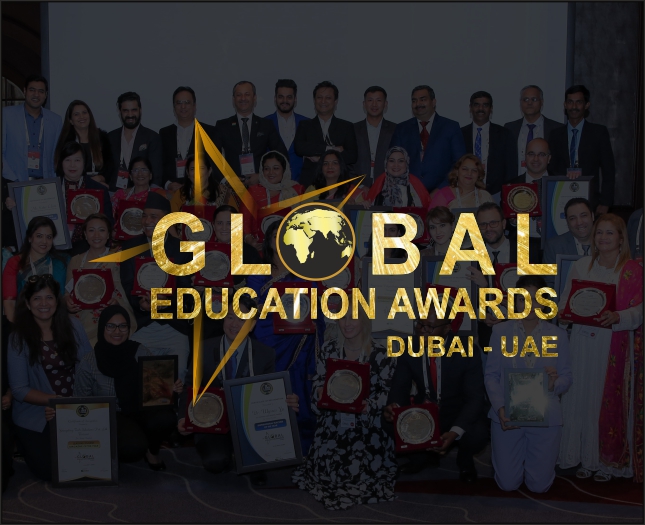 About Global Education Awards
Global Education Awards, an initiative of AKS Education Awards is an annual program that recognizes excellence in education globally. The intent of the Global Education Awards has been to acknowledge individuals and institutions worldwide that have demonstrated the highest calibre and standards of education to their learners. We believe that recognition becomes excellent tool to motivate them to continue their exemplary work. With our thorough and carefully devised mechanism for assessing excellence in education, the recipients of the laurel will reap global benefits and prominence, directly affect their career growth and acceleration. Nomination are invited from individuals and institutions worldwide for 2023 in 7 Main Categories and 106 Sub-categories. The award will be felicitated in a Gala Event in Dubai.
Nominate Now
Who and What is this Award for?
The awards highlight and reward the quality and diversity of High Performing Institutions as well as Educators. AKS Education Awards aims to encourage the raising of educational standards throughout the industry and aims to be recognized throughout the sector as the accolade of excellence.
The Ceremony will Include Panel Discussions, Speaking Sessions, Networking Lunch, Entertainment and Awards Presentation. We believe the Ceremony will not only provide excellent networking opportunities but will also be an unforgettable experience. CLICK HERE to know award categories and other details.
Nominate Now
PRE SCHOOL EDUCATION
Pre-school of the Year - Country-wise
Pre-school of the Year - State-wise
Outstanding Pre-school in Innovative Pedagogy
Emerging Standalone Pre-school
Outstanding Pre-school in Inclusive Practices
Outstanding Pre-school in Campus Infrastructure
Outstanding Pre-school in Parental Engagement
Outstanding Pre-school in Technology Usage
Outstanding Pre-school in Holistic Development
Outstanding Pre-school in Safety & Security
Outstanding Start-up Pre-school
Emerging Pre-school Chain
Fastest Growing Pre-school Chain
Leading Pre-school Chain
Most Progressive Pre-school Chain
SCHOOL EDUCATION
School of the Year (Boarding Boys) – Country-wise
School of the Year (Boarding Girls) – Country-wise
School of the Year (Boarding Co-ed) – Country-wise
School of the Year (Day cum Boarding) – Country-wise
School of the Year (Day cum Day Boarding) – Country-wise
Digital School of the Year - Country-wise
Green School of the Year - Country-wise
Exceptional School – Innovations
Exceptional School – Best Practices
Exceptional School – Inclusive Practices
Exceptional School – Scholastic Excellence
Exceptional School – Co-Scholastic Excellence
Exceptional School – Infrastructural Excellence
Exceptional School – Sports & Games
Exceptional School – ICT Integration
Exceptional School – Hygiene & Cleanliness
Exceptional School – Administrative Excellence
Exceptional School – Safety & Security
Exceptional School – Community Outreach
Exceptional School – Beneficiary Satisfaction
Exceptional School – Learning Resources
Exceptional School – Teacher Quality
Exceptional School – STEAM Implementation
Exceptional School – Global Collaborations
Exceptional School – Art Integrated Curriculum
Exceptional School – Experiential Learning
Exceptional School – Holistic Development
Exceptional School – Happiness Curriculum
Exceptional School – Joyful Learning
Exceptional Start-up School
EXCELLENCE IN LEADERSHIP
Principal of the Year – Country-wise
Principal of the Year – All States
Global Lifetime Achievement
Distinguished Educationist –Male
Distinguished Educationist –Female
Pedagogical Leader of the Year
Global Edupreneur of the Year
Digital Principal of the Year
Innovative Principal of the Year
Youngest Principal of the Year
Inspirational Principal of the Year
Outstanding Director Principal of the Year
Outstanding Coordinator of Year
Outstanding Vice Principal of the Year
HOD of the Year - Subject wise
Outstanding Administrator of the Year
Outstanding Principal Mentor Award
Outstanding Educational Influencer
Outstanding School CEO of the Year
EXCELLENCE IN TEACHING
Teacher of the Year - Country-wise
Outstanding Teacher State-wise
Youngest Teacher of the Year
Innovative Teacher of the Year
Dynamic Teacher of the Year
Inspirational Teacher Award
Outstanding School Counselor of the Year
Outstanding Special Educator of the Year
Outstanding Teacher - Subject-wise
University Faculty of the Year
College Faculty of the Year
Outstanding Faculty of the Year
Innovative Faculty of the Year
Dynamic Faculty of the Year
Inspirational Faculty of the Year
HIGHER EDUCATION
Innovation in Global Collaborative Learning
Exceptional E-Campus
Exceptional Deemed-to-be-University
Exceptional Private University
Exceptional Management Institute
Exceptional Engineering Institute
Excellence in Green Campus Initiative
Excellence in Teaching Pedagogy
Excellence in Industry - Academia Interface
Innovation in Open & Distance Learning
Excellence in Training & Placement Institute
Effective Practices for Incubation Center by University
Exceptional Hotel Management Institute
Exceptional Mass Communication Institute
Exceptional Fashion Designing Institute
Exceptional Nursing Institute
INDEPENDENT AWARDS
Outstanding Educational Counselor
Outstanding Motivational Speaker
Outstanding Teacher Trainer
Outstanding Life Coach
Outstanding Career Coach
Outstanding Soft-skills Trainer
EDUCATIONAL CORPORATE
Leading Security and Surveillance Solutions Provider
Leading Multi-Media Content for K-12 Education
Leading Training Services Provider
Leading Tests Tool Providers
Leading Interactive Solution Providers
Leading Technology Solutions for Higher Education
Leading Technology Solutions for School Education
Leading Assessment Tool Providers
Leading Technology for Engineering Institutes
Leading School Books Publisher
Leading Smart Class Solution Provider
Leading Student Magazine
Leading Online Education Platform Provider
Leading Overseas Education Consultant
Leading ERP Solution Provider
Leading School Security Solution Provider
Leading E-learning Portal
Leading Overseas Education Consultant
Leading Job Portal for Education Sector
Leading School Furniture Provider
Photos From 2019 Edition